How to sell your mobile home faster and at a higher price than you might expect
Want to get the best price from your home sale? Are you looking for tips on how to sell my mobile home fast so you can find a new home and move in soon?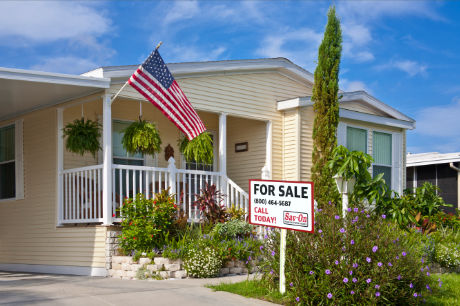 Manufactured homes are like any other home, and taking the time to do some simple tasks can make a world of difference in both the price you get for your home and how fast you sell your mobile home.

Contact us, and we'll be happy to set up an appointment to help you pick out your new home.
Let's start with the basics.
Remove the clutter!
People want a move-in ready home. Look around your home and property and think if YOU would want to move in as it is now. Sometimes clearing clutter from around your home-site will make your property have greater curb appeal. Don't assume people can see the hidden gem behind things you have yet to store or remove.
Are you planning on putting things in storage? If so, do that as soon as possible since a minimalistic condition is far more attractive than one with "stuff" hiding the potential of your home. Make sure your home is structurally sound such as making sure the foundation is without issues.
Paint and clean
Often some simple touch-ups are enough to make your home look more appealing. Your local home improvement store can match your paint to your current walls interior or exterior. They will mix up a small portion, such as a quart that may be more than enough to touch-up those scuffed areas or covers something you can not clean off. Modern color-matching technologies will match even sun-bleached colors allowing you to present a perfect surface to your potential buyer. Buyers are looking for a home they don't have to work on unless you are looking to give it away at a steal. The cost of doing touch-ups will come back many times over in the higher price you can sell your manufactured home for.
Plants
Add some nice flowers to your garden or any areas close to the house. Maybe purchase a free-standing planter box and put in some seasonal flowers. This is an inexpensive way to spruce up the exterior of your home.
If you have any dead plants or leaves in the planters, now is a good time to rake them up. Buy a bag or two of decorative tree bark to fill in any areas that lack plants. Plants and ground coverings are usually a very inexpensive way to make your house shine. While you at it, purchase some flowering plants for the interior as well. Since you'll be taking photos, you can move these plants inside and out for the most advantageous return on your decorative investment.
After you have your home and home-site clear of clutter and touched up, you're now ready to take photos.
Interior Photos
Try to take pictures with the window shades pulled back to allow a lot of light into your home. Clear the counters of any things that could distract from the photo.
Exterior Photos
Take your photos with the sun behind you so as not to interfere with your photo's exposure. If taking a wide-angle shot that shows your full house, take advantage of any "beautiful day" elements such as clouds, blue skies, and healthy plants. move any vehicles away from the property and if necessary clean any soiled spots such as oil drips from a leaking vehicle.
Pro Tip: Wash down and wet all outside surfaces like walkways, driveways, and paths just before taking your photos.
Photographs can be taken with your mobile phone if it is a recent model. Mobile phones have really come a long way in the quality of photos they can take. While you're at it, consider a video walkthrough. Again, modern mobile phones can also take quality videos, and some even offer built-in motion stabilization.
3D walkthroughs
Matterport has recently released it's software to work with your mobile device. This means you can walk through your home taking 3D photos that allow a prospective buyer to walk your home from the convenience of their location. And the cost for 1 site is free, leaving no excuses for not having your home
Once the inside and outside of your home is photographed and ready to be listed, you'll need to determine who will be selling your home. Do you have an Agent? Do you intend to sell your home on your own?
Marketing your home to sell fast and get the highest price will require online listings. Craigs List, Zillow, and Redfin are a few of your options. You may be wondering how much can i sell my mobile home for? Or "how to sell a mobile home with a mortgage"? In some cases, finding a competent Real Estate Agent will be worth the commission they require for their service. Real Estate Agents have experience and access to services such as Multiple Listings as well as Contractors and even Staging Companies which could allow for a higher sales price.
Take time to do a write-up of your home that tells of its positive aspects. Cover the fundamentals such as how much space, the number of rooms, and if you have made any improvements. After you have the general information, mention positive things the potential buyer may not notice on their own. Does your home provide a beautiful view? Does the morning sun provide for the perfect breakfast lighting? Is the location peaceful and quiet? Many of these aspects can not be conveyed by pictures alone. And who better to know these positive features of your home than you? Remember, you are now the salesperson. Even if you are not a salesperson by trade, your enthusiasm will make the person searching for their next home, that much more comfortable if you seem to love your home.
The bottomline is that your home is worth what someone is willing to pay. So, following the guidelines we have suggested, and it should help you sell your manufactured home quickly and at its best price possible.