Solar Power for your Manufactured home or Modular home
Looking for solar power installation on your mobile home?
Solar Panels for Manufactured Homes
Savon Homes offers Solar as an option on our NEW homes
Modern mobile homes are constructed much stronger than they were in the past. Solar Powered mobile homes require a stronger roofing system than a standard roof. Contact Us to talk more about how we can add solar to your new mobile home.
Solar panels are the key to generating clean, low-cost power for your home. Solar panels are photovoltaic, which is how they convert sunlight into energy. They are assembled in an array, which means they are linked together.
We don't install solar panels on existing manufactured homes but provide the following information below, which will help with installing solar on older homes. Generally, it's better to install on a newer home as the structural members that support the roof are stronger than they were in earlier mobile home construction.
Current Special Offer for Mobile Home Solar Panel System


System Size: 11.055kW
System Information

| | |
| --- | --- |
| Estimated Energy Production | 18,225kWh |
| Estimated Savings | $375 per month |

Top Tier Solar Modules
Enphase Micro Inverters
Complete Installation
System Monitoring
25 Year Warranty
Incentives for Solar Power installations
Due to the encouragement of solar energy generation, you may find that your local government will help pay for a portion of your solar installation.
---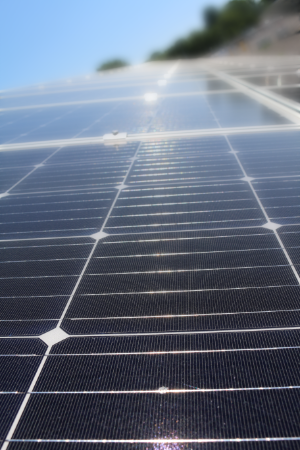 The following information is provided to help understand if and how solar power would be added to an existing mobile home.
What if my home does not have a strong enough roof?
You can install solar panels as stand-alone units that power your home. In most cases, you will need to check with your homeowner's association if in a park and with your city's building department if you are on your own land.
Building departments often disallow solar panel installation on homes that do not have a permanent foundation. It only takes a phone call to your local city hall to talk to the building department before proceeding.
Another option for getting a solar-powered mobile home is to use an outbuilding or even carport as the required structure to support the solar panels. These structures are generally low cost due to their minimal construction. But, they can easily be made into sturdy structures for solar. Talk to a local contractor to determine what it would take to make your carport or outbuilding a suitable base for solar panels.
How can I get the even better efficiency from my mobile home solar system?
Like any home, if you use less energy, your operating costs will be lower. Consider things like dual pane window replacements or insulation upgrades to make your home more efficient. Attic insulation is another inexpensive way to increase the efficiency of your home.
Final considerations when looking for a solar powered manufactured home.
Talk to your solar system estimator about how you can minimize the requirement for your solar-powered mobile home. You may find that my upgrading the general efficiency of your mobile home, your actual costs for solar could be even less.
Consider local electrical companies' incentives as they may dramatically lower the cost of installing a mobile home solar panel system.
Battery backups are useful when storing excess energy generated throughout the day. For instance, if you have a system that generates more energy than you use, you could store that energy for after dark when the solar panels are no longer creating electricity.
Earn credits from your electrical company by providing excess energy back to the electrical company. This is one way to have a lower cost or no cost during night hours.